Issues: #1 - #4
Very creepy book. I'm a big fan of Alex Maleev's artwork from reading Daredevil, which has been
reviewed on my blog before
. I'll be honest in that I haven't read a single Stephen King book. I read comics, which is like books with pictures... But I've watched plenty of the film adaptations and been told about some of the books, so I'm certainly aware of the types of stories he tells.
There's something wrong with Ackerman's Field in a forgotten corner of Maine. In a field are eight standing stones. For one unlucky person, looking a bit too closely can result in seeing just seven stones, and that's when the line between what's real and not can get a bit fuzzy..
Insanity is often used in horror and thriller, because dementia and stuff is a very real and terrifying possibility. The idea that insanity is contagious like in N, or that a single idea can destroy you a la Inception, is pretty damn scary.
N is told through three friends, one being a psychiatrist who's patient N is seeing seven stones in Ackerman's Field
The artwork as always is terrific. Alex Maleev is a great storyteller in his art, and his photo realistic style is perfect for a scary tale such as this. It takes a life pretty much every issue building towards it's conclusion. It's hard to make a comic scary or fill you with dread, but this one somehow manages.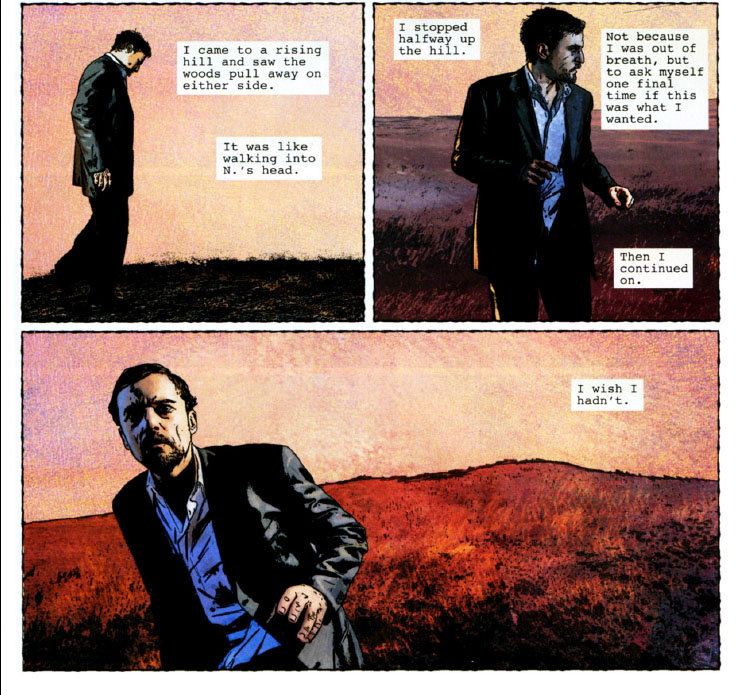 Scary stuff
7/10